Videos
Watch here our videos in the following categories:
Installation videos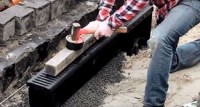 Get to know more information on the installation of drainage channels here.
Do you know our YouTube channel?
In our YouTube Channel you find  many more interesting videos. Here you find the HAURATON YouTube Channel:
HAURATON on Facebook and Twitter
We are also present in the social networks Facebook and Twitter and post regularly exciting information about HAURATON.