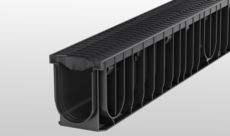 Versatile drainage range for all requirements of gardening and landscaping.
View references

Drainage with HAURATON
For over 60 years we have been internationally successful as a specialist in surface drainage. With our extensive range of linear drainage and point drainage, rainwater treatment and infiltration, we have been a reliable partner in the construction industry. Individual solutions, such as the tailor-made slotted channels are our strength.
HAURATON Reference data base
Convince yourself of our products which have already provided numerous references worldwide.
You can quickly and comfortably find your desired reference selection with filter options like "Application", "Country", "Porducts" and much more.